Featured lightmandala collection
---
BEGLÜCKT
Hallo Robert, ja, das Lichtmandala wurde Anfang der Woche unversehrt geliefert.

Auf den Bildern und Videos habe ich ja schon gesehen, dass es toll aussieht, jedoch ist es in live nochmal was ganz was anderes. Es passt hervorragend in meine Wohnung und ich bin total glücklich mir dieses Mandala ausgesucht zu haben. Mir gefällt das Muster wirklich gut.

Vor allem die LED Birnen inkl. des Drehmotors ist faszinierend. Diese Einstellung hatte mir im Video auch schon am Besten gefallen.

Echt toll, dass du so etwas schönes baust. Ich brauche echt nicht viel Deko an meinen Wänden in der Wohnung, aber das Teil passt einfach perfekt an meine Wand. Danke nochmal und beste Grüße

David.D.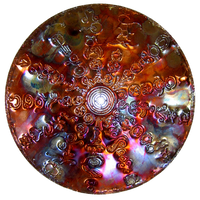 Eigene Idee? Got your own idea?
Gerne fertige ich Euer individuelles Mandala oder sonstiges wie Logos etc ..in ein Lichtmandala auch mit Material Ihrer Wahl! Einfach mal anfragen!
Get your own unique one. You want me to create your own custom Lightmandala any size, material, lightings, patterns etc., get in touch.
ANFRAGE FÜR INDIVIDUELLES LICHTMANDALA - ASK ME FOR CUSTOM LIGHTMANDALA
DELIGHTS
Thank you Claude for making me discover this artist fabulous...

This is exactly what kind of things that are suing me for weeks now... I love....

Martha K.
You certainly have this down to a science & an art. Surely you are one of the best doing this out there…

Judy H.F.
Gosto disso!!!... Sintam a Energia de Boas Vibrações. Amooo muito!

I like that!!!... Feel the energy of good vibes. Love you so much!

Carlos C.
say what
Bellos juegos de luces que forman variedades de ángulos que se encuentran y se alejan Pero parten de un centro y cambian de luces etc

La velocidad de vibraciones energeticas

Reynelda M.B.
Here is what one can experience and potentially see under the Lucia or Pandora Star lights... amazing right?

Voici ce que l'on peut expérimenter et potentiellement voir sous la lumière Lucia ou Pandora Star... impressionnant n'est-ce pas?

Thérapies Q.
Beloved, look closely, these beautiful drawings, sacred geometry in our hearts, spreading out, about where we go, the violet flame, trasmutando, purifying, harmonizing all,! What a spectacular, design of man guided by the universal intelligence!!!

Miranda M.
vibrating minds
Todo es vibracion al sonido y ocurre el mandala en todo

It's all vibration to the sound and it happens in all the mandala :)

Ximean G.
Em dias Tênue nada melhor que algo lindo e relaxante... um bálsamo para os olhos e a alma.

In days tenuous nothing better than something beautiful and relaxing... A Balm to the eyes and the soul.

Carla B.
Gosto disso!!!... Sintam a Energia de Boas Vibrações. Amooo muito!

I like that!!!... Feel the energy of good vibes. Love you so much!

Divina L.
Soul talks
Excelente, extraordinaria, una energía fabulosa.

Excellent, extraordinary, a fabulous energy.

Blanquita L.
Soberanamente fantástico!!! Formidable!!! Maravilloso!!! Majestuoso!!!

Royally Fantastic!!! Formidable!!! Wonderful!!! Majestic!!!

Namaste!!!

O. Martin O.
That's how I feel when we connect in the divine more than earthly, a beautiful cosmic connection and sacred luv yu be

Oscar
On peoples mind
I could spend my life in this realm.
Be the black dot..and the outer frame of gold.
Real dream...
It filled me, from eyes to heart, to mind and soul..
It even poured down all the way to my feet..Trippy night gone light.

Maria E.
MANDALA DE LUZ ! ME DIGAM OUTRO CÓDIGO Q DEFINA MELHOR, A CONSCIÊNCIA !?!

Mandala of light! Tell me another code q define best, consciousness!?!

Jenny N.
This is the most talented human on the planet.

You need a little peace in your life? Watch this. . .

Jennifer F.
Guaranteed Safe Checkout